Investor Club

Welcome to

Investor Club

An innovative, tailored service allowing you to discover the capability of capitalising on the full potential of your property portfolio in the short-let (minimum stay 2 days) property market.
The Investor Club was launched to offer Investors, Estate Agents, Landlords & Developers a way to monetize their properties full time, or whilst awaiting sale or rental.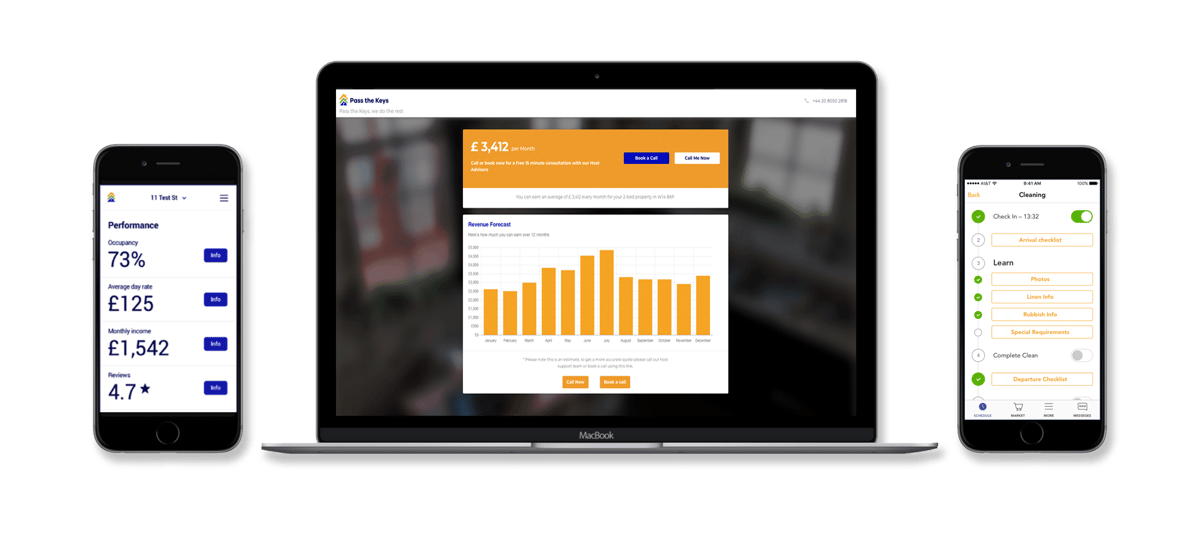 What can I expect from the service?
At Pass The Keys we understand that no customer is ever the same and with this approach we pride ourselves in providing a personal touch with every new customer that we work with.
Upon receiving your request, our experienced team of property analysts will review your information and analyse market data using our industry leading software and complex algorithms to advise you on how to maximise your property revenue.


1: Give us a call or book an online consultation to receive a bespoke price estimation on your property.
2: Receive your appraisal utilising our dynamic pricing algorithms to maximise your price per night.
3: Our team helps list your property with beautiful images & descriptions on multiple portals.
4: Pass us the Keys, and watch your revenue grow, increasing your yields by as much as 50%.
-
Why Short-Let?
With numerous new rules & regulations currently being introduced to the rental market, it is becoming increasingly more difficult to acquire a high yielding buy-to-let investment in the UK that can have significant returns on a monthly basis.
By short letting your property, we can help you double and in some cases triple your monthly revenue.

---



Why Join Investor Club?





Personal Consultation
Receive a call from our business development team to discuss your requirements in more detail.

LTADR Calculator
We will help you review your LTADR (Long Term Average Daily Rate) on your property using our unique market algorithms and statistics.



Preferential Rates
Do you own two or more properties? Great! Come on board with PTK and we will create a bespoke package for your property portfolio with preferential rates.

Dedicated Account Manager
We assign you a dedicated account manager to oversee the activity and performance of your property on a daily basis.
High Yield
Our Team of experts use dynamic daily pricing tools and list your property on multiple platforms to maximise returns.

Hospitality

Our high level of hospitality is delivered by a diverse team of specialists with experience in luxury hotels, banking & personal concierge.

Safety

We appreciate the value of your asset and insure that safety is always at the forefront of our service offering. From performing stringent checks on every guest, to managing the security of your keys. We cover all the angles!

Marketing
Our experienced marketing team will make sure that your property achieves maximum exposure on the market. From capturing beautiful photography to publishing fetching property descriptions.
TESTIMONIALS

'Joining the Investor Club really helped take my business to the next level! I was able to fill void gaps during property sales and increase my customer's monthly rental income as well. The 'White Label' program is excellent!'

Richard - ESTATE AGENT
'Managing my property portfolio across the UK has always been very time consuming and costly. Joining the Investor Club helped me monitor everything in one place using their incredibly intuitive client portal. My account manager was very helpful during the whole process'

Matthew - PROPERTY INVESTOR


'Pass the Keys really do go the extra mile! From helping us evaluate multiple properties across the UK, to using their unique algorithms to send us valuable market data and analytics. They are really at the forefront of the industry'

-
Fill in your details below to receive a free consultation now, or book a call with our Business Development team.